EMAX Electric Transmission
Your single powertrain solution.
The EMAX is a compact, versatile design that addresses the needs of many applications using an innovative one-size-fits-all philosophy. It's designed for commercial vehicle classes 6-9. It offers several distinct advantages over other powertrains in its class.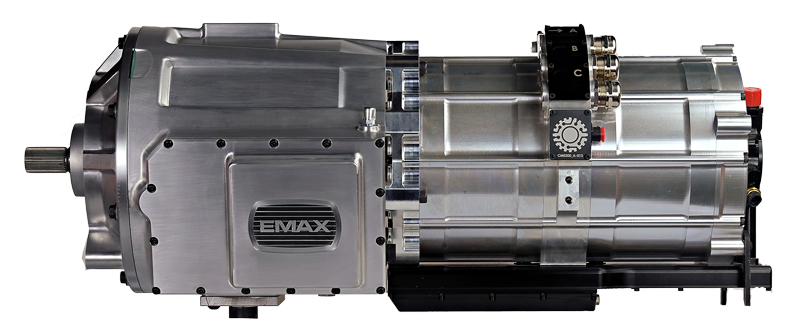 EMAX is a multi-ratio gearbox. While passenger car electrics are able to get by with a single ratio engine, the more extreme and difficult commercial applications benefit from adding multiple ratios, allowing for greater efficiency and a better driving experience. For a large passenger bus, a tractor trailer, a mining truck, or a full delivery van, using multiple ratios creates a much more desirable launch condition, and better highway speeds.
Next, the EMAX has an extremely high power density, made possible in large part by our special electro-mechanical clutches. The EMAX can accept up to 4600 NM of torque in just an 18″ package. This provides both power and flexibility in placement. With chassis architecture for electric trucks being designed in large part to find room for batteries, a small profile to fit into a chassis setup is critical.
Finally, the EMAX is a modular powertrain. The motors, extension housings, and output shafts can all be changed to accommodate different applications without having to change the transmission. This gives the advantages of multi-ratios while saving the expense of oversizing motors or adding more motors than is required — as is often done with single ratio solutions. It also saves the cost of supporting multiple transmission programs for your truck fleet. Does your bus fleet need more power for San Francisco than for Omaha? Switch the motors to the required power level. Do you need to move a giant mining truck up a 15% grade? Add larger motors.
The EMAX electric powertrain is both the most efficient and the most versatile electric powertrain on the market for class 6-9 commercial vehicles. And the powerful design that makes it all possible is modularity.
EMAX has a common gearbox with interchangeable inputs and outputs. By building a transmission that can accept either one power input or multiple power inputs — a design process we call modularity — we're able to reduce manufacturing and maintenance costs, minimize technical problems, and streamline sourcing.
In other words, we've reduced the number of different kinds of transmission that are needed by building one transmission that does it all.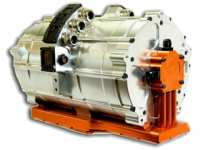 This dual motor configuration maximizes efficiency in a CVT type manner.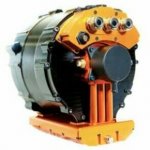 With a change to the input shaft, and a bearing and spline added, this motor becomes a 1-motor-ratio 3-speed.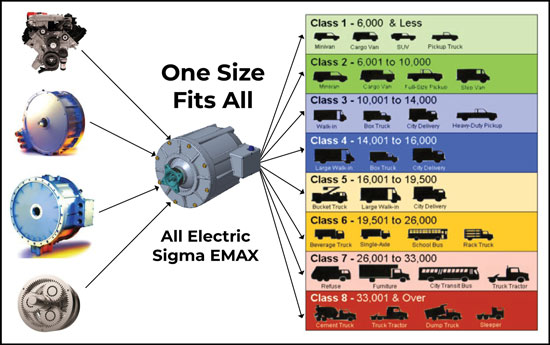 EMAX Specs and Attributes



Electric Transmission Tech Specs